The Inn on the Square
Uptown Greenwood, South Carolina
It has been an exciting two years at the Inn on the Square located in Uptown Greenwood.  The team has been buzzing about the upcoming celebration of our 2nd Anniversary.  We would like to take an opportunity to share some of our history and how we came to get here. As some of you know, the Inn on the Square was originally two buildings.  The original structures were built in 1905 and 1906, as far as we know.  They served a multitude of purposes from furniture shops to funeral parlors.  Some of the ghost stories of Bill, our friendly spirit that frequents the Fox & Hound Lounge, located within the hotel, say that there was a waiting area for the train located there at one time. That waiting area is where Bill was when he fell ill and died while waiting on his train home.  Hence why they say his spirit remains there.  You'll have to come in some time and say hello.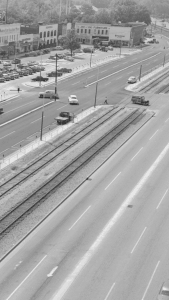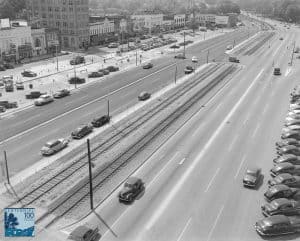 In 1985 there was a major push to revitalize the Uptown Greenwood area.
The community investors thought a small hotel in the Uptown Greenwood district is exactly what it needed. With assistance from the City of Greenwood the alley between the buildings was condemned and the two structures were combined. Two local developers, Bob Coleman and Ben Lawrence were the masterminds behind the hotel and ran it successfully for a number of years.  The picture below is of construction when they were taking out the railroad tracks and joining the two buildings.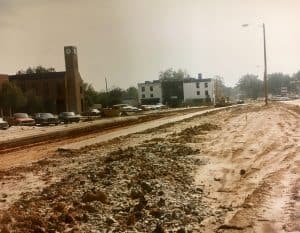 Making our own Memories
After many years and transitions the current owners, Jim McGuinness, Wesley Oldham and their wives, Cj and Kathy, have blessed us with the opportunity to do it again. The Summer of 2015 the Inn on the Square yet again went under a complete renovation and re-opened it's doors to the Uptown Greenwood community in October! We've been blessed to have acquired and maintained an incredible team of managers and line level employees.  Our guest satisfaction and reviews continue to glow and encourage us that we've been doing a pretty good job succeeding at bring hospitality back to Uptown Greenwood.  Again and again we tell anyone who will listen, that we've come this far because of our team.   We've grown together as a family and wouldn't want it any other way.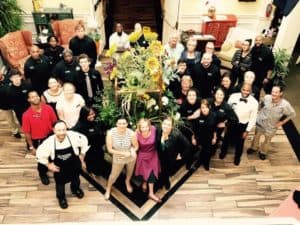 You know we're going to throw a party!
  Stay connected with what we're upto on Facebook for more details.
https://innonthesquare.net/wp-content/uploads/2017/09/IMG_0052.jpg
2048
1536
Claire Griffith
https://innonthesquare.net/wp-content/uploads/2015/10/ios-logo-2x.png
Claire Griffith
2017-09-20 16:03:26
2017-09-20 16:44:59
Making History Inn Uptown Greenwood -part 1